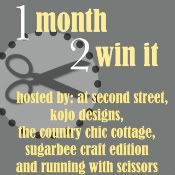 99 people tried out for Season 2 of OMTWI and guess what???
I was one of 12 to make the cut!!
Check out all 12 of the contestants on One Month To Win It
The season is 4 weeks. Each week will have a different challenge.
The voting is all by anonymous open poll.
I can't tell you which project is mine you will just have to vote for your favorite:-)
The contestants to move on each week are chosen based on 1/2 points from the poll and 1/2 from the Judge's votes.
Voting begins April 4th-6th and then each Monday-Wednesday in April.
So on Thursdays I will be posting my tutorial.
OMTWI is the perfect contest/challenge.
T
he voting process they set up keeps it from becoming a popularity contest and makes it fair for all contestants.
I'm so excited to be apart of OMTWI and get inspiration from all the other contestants!
If you are interested in auditioning for OMTWI check out the schedule HERE