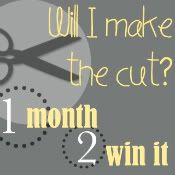 I made it to Week 2!!! With my Laundry Room Wall Art:-)
Thank you ALL who voted....
Now it's time to head over to One Month to Win It and VOTE for your favorite Mod Podge project.
I can't tell you which project is mine.....but I will be posting my tutorial on Thursday after the voting is closed...
Thank you!!